Best Punjabi - Hindi Love Poems, Sad Poems, Shayari and English Status
---
You heard it right. Now you can earn money by just submitting your shayaris to zindagiterenaam.com.
I remember, few years ago i was looking for a website or portal where I can submit shayaris and get some bucks.
But most of the sites were not offering any benefits to the writers, although they were earning hefty amount of money through advertisement.
Then I went to the forums, where one can submit and discuss any topic.
I invested my time but still not able to get anything where I can get back something in return.
So in 2015, I decided to launch my own website but launching a website from scratch is always very hard.
I started this website with a major purpose to give something in returns to contribute. so today I am writing this blog to let you know that now you can get some money in your bank accounts directly on successful publish a shayari post.
Now point is how to get that money. Please read below steps:
EARNING PROCESS
Process is very simple. Its not a robot science. you just need to submit your own shayari posts. that's it.
Steps to submit shayari and get credits:
Now login and visit to submit shayari page.
fill the content and click on submit.
congrats! you have posted your first shayari. you can see your post in my posts. Initially, they will be shown as "in-review". Later we will review and publish them.
On successful post publish, you will get an email confirming that your post has been published.
And also you will get 2 Rupees credit in your account.
There are some rules that user must follow before submitting the shayari post otherwise it can be rejected. so please read them carefully.
MONEY REDEEM PROCESS
Money redeem process is also too easy. you just need to click one button. below are the detail steps: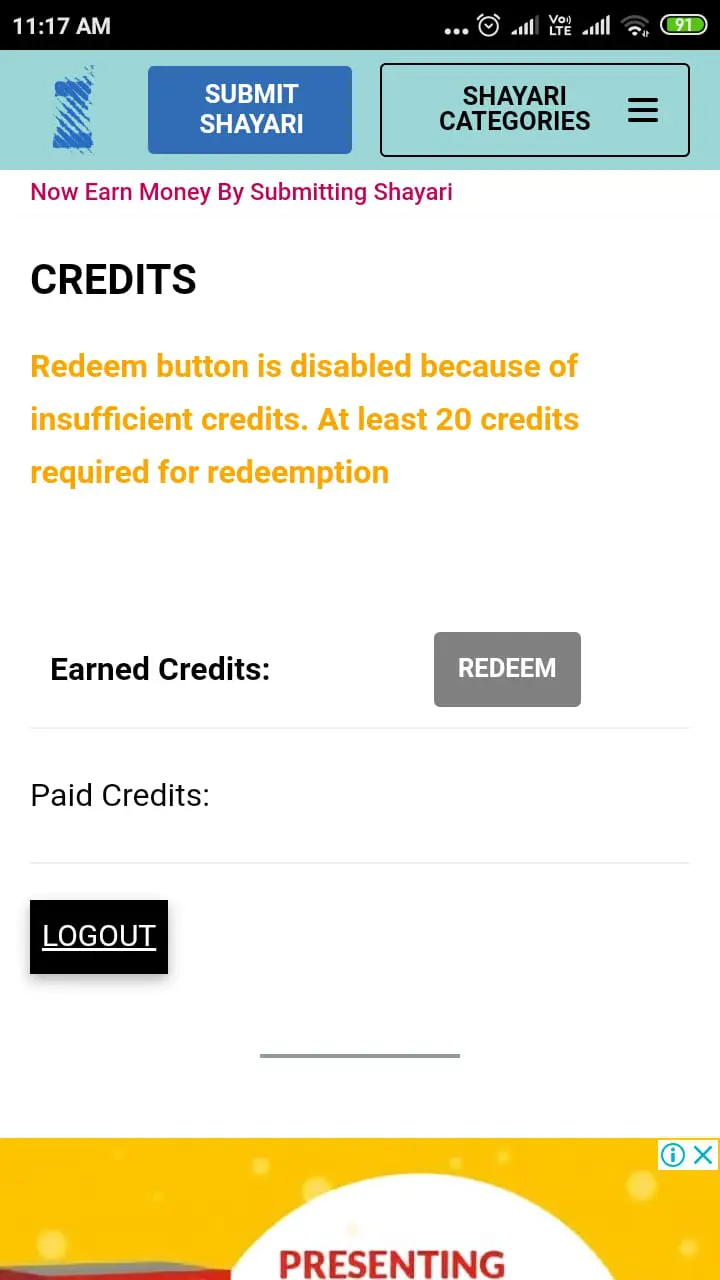 In my account section you will see your UPI address where the money will be transferred and your credits.
You can request to redeem your credits only once you reach to threshold value.
There is threshold of 20Rs. for the redemption. So it means you have to submit atleast 10 shayari posts to get your first 20rs.
Once you reach to 20Rs credits, redeem button will be active which you can click to get the amount credits.

IMPORTANT POINTS TO REMEMBER
Earned credits mean total amount you have earned which is pending for redemption.
Paid credits mean total amount which is credited to you till date.
Amount will be credited to you within 2 weeks from the redemption request to you UPI payment address. You can update your UPI address in update biography page in UPI field.
please note that UPI address must be in xxxx@xxx format. please check page how to create UPI address before updating it in your bio.
We will be exploring more areas to earn money.
Happy submitting Shayari. Stay tuned.
---
Na dwa se na daru se, mera zakham ab bhar sakta hai..
Koi vaid na koi kaadha, mujhe ab thik kar sakta hai..
Mein ishq bimari ki ek aisi had par hoon dosto..
Ke is bimari mein dooba hua, ye jisam ab sirf mar sakta hai..🙃❤️
ना दवा से ना दारू से, मेरा ज़ख्म अब भर सकता है..
कोई वैद ना कोई काढा, मुझे अब ठीक कर सकता है..
मैं इश्क बिमारी की एक ऐसी हद पर हूं दोस्तों..
के इस बीमारी में डूबा हुआ, ये जिस्म अब सिर्फ मर सकता है🙃❤️
Title: Ishq bimari || love shayari || hindi shayari